Fort Frances Community Gardening (FFCG)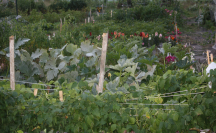 The FFCG is located on Lillie Avenue, between 5th & 6th Streets West.
This property is owned by the Town of Fort Frances, and has been provided free of charge for a 3 year trial period, beginning in 2011.
The project has proven to be very successful to date, attracting a significant increase in gardeners, volunteers and supporters each year.
The FFCG began in 2011 with partners from the Northwestern Health Unit, the United Native Friendship Centre, the Fort Frances Horticultural Society and community volunteers.
To date, the FFCG has further developed partnerships with the Gizhewaadiziwin Health Access Centre and the Metis Nation of Ontario, and has also gained numerous sponsers and volunteers.
In 2011, the FFCG received funding from the Moffatt Family Foundation, which aided greatly in getting the project off the ground.
After the first gardening season in 2011, the FFCG had a waiting list for the following year. The FFCG secured funding in 2012 from the Government of Ontario's Healthy Communities Fund to continue improvements to the project.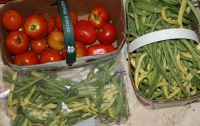 The FFCG has also partnered with Metis Nation of Ontario's Sunset Country Metis and the Best Start Hub to deliver an education presentation to their weekly "Kids being Kids" program.
The FFCG has planted a number of perennial herbs, berries and flowers.
Time will tell what the future holds for the FFCG, however the FFCG would like to implement: increased partnerships with local schools, regular garden-centred workshops, an increased number of accessible/raised garden plots.
In 2013 the creation of a children's gardening club was formed and start with over 25 kids applying.
Regular garden plots measure approx. 10' x 20', and there is a limit of 4 regular plots per household.
Regular plots are $20 for the season. Children's plots are 1/2 the size of the regular plots, and are available to children at a cost of $5/plot.
A limited number of raised garden beds are also available for those with physical limitations. We now have 8 raised beds and are going to make more for the 2014 year
The cost of a raised bed is also $20 for the season.
The raised beds were built by students at Fort Frances High School, and have proven to be an essential part of the garden.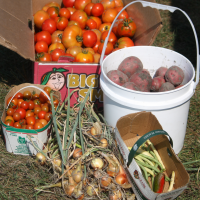 Additional raised beds will be added each year, again as a result of a partnership with Fort Frances High School.
Gardeners are required to tend to their own plots, and must plant by the mid June; clean up by mid-October.
Gardeners are also expected to cooperate with their plot neighbours to ensure that pathways between plots are weed free.
Plots that are not rented out are planted and tended to by volunteers, with excess produce being donated to our local soup kitchen and food banks.
As the garden is located on town property, gardeners are also required to sign an Indemnification waiver at the town office prior to working in the garden.
Fort Frances Community Garden opened in 2011.
The location currently has 2 gardens, the north garden has approx. 34 10ft x 20ft plots, a herb garden, a raspberry patch, and 16 raised beds.
Some of the plots are divided into 2 smaller plots for kids, we usually divide up 6, 7, or 8 plot depending how many kids sign up.
The south garden has approx. another 30 full size plots, some are used for kids and sharing gardens
Many individuals and community organizations participate in the Fort Frances Community Garden. Land is made available free of charge by the Town of Fort Frances.
Local corporations, high school students and service groups offer their support.
Seeds, plants, tools, wheelbarrows, sheds and other supplies are often donated or provided at cost by local businesses or service groups.
FFCG receives charitable donations for the gardens from foundations, corporations and individuals.
There is a small charge for a plot or raised bed. Many gardeners choose to make a donation to FFCG to assist with operating costs.
Garden participants are asked to volunteer at least 8 hours a season and everyone is encouraged to donate some of their produce to their local food bank.
All local residents are invited to participate, however, priority is given to residents with little or no green space.
No previous gardening experience is required.
Fellow gardeners are always happy to share their expertise with novice gardeners.
Previous year garden plot users will have first choice if they want their plot(s) from last year.

Please note a limited number of plots are available.

For more information on the Fort Frances Community Gardens, contact Program Coordinators