Deer Problems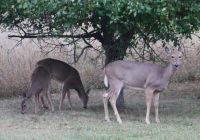 Try out this all natural pest deterrent recipe, which was used with great success last year!

1 cup milk
2 eggs
1 tbsp vegetable oil
1 tbsp dish soap
2 gallons water

Combine ingredients and spray on plants (can be used on all plants). Re-apply as needed, especially after a rainfall.